adidas Showcase at Juxtapoz Clubhouse
---
As a part of its growing global initiative to elevate emerging artists from skateboarding's creative sect, adidas Skateboarding partners with seminal art publication Juxtapoz Magazine to bring The Showcase, adidas' global creators series, to Miami. Taking place from December 7-10, 2017 and in collaboration with Juxtapoz, this large-scale group exhibition and cultural gathering provides a unique platform to showcase works from rising artists on an international stage at one of the world's most renowned art fairs.
Taking place within the Juxtapoz Clubhouse located at the Historic Walgreen's Building in downtown Miami, The Showcase promises to house the best emerging international talent within the global skateboarding community alongside Juxtapoz's lineup of critically acclaimed artists. In addition, event and gallery installations from some of biggest names in public and contemporary art will be on display.
The goal of The Showcase has always been to bring the global skateboarding community together, celebrate our creativity, and help elevate the incredible talent we share as skateboarders. Working with an outlet like Juxtapoz to bring some of the best creators from The Showcase to a global stage in Miami is a huge step forward in supporting this next generation of young artists.
— Cullen Poythress, Senior Communications Manager, adidas Action Sports
Juxtapoz Clubhouse's exhibiting artists include Lucy Sparrow, Jean Julian, Conor Harrington, Ron English, and many others. The Juxtapoz Clubhouse and The Showcase will also extend its programming to include a separate indoor skatepark, just a block north of the venue – complete with an outdoor space and mural.
The Showcase exhibiting international artists include: Ivonne Alcatara Sanchez (Latin America) – Mexico City, Mexico Mariano Amilcar Gonzalez (Latin America) – Buenos Aires, Argentina Julio Ignacio Pizarro Freire (Latin America) – Santiago, Chile Erica Rocha Santos (Latin America) – Sao Paulo, Brazil Trihumph (USA) – New York, NY Maximilian Mueller (USA) – New York, NY Spacegoth (USA) – Los Angeles, CA Jason Keam (USA) – Los Angeles, CA Homeless Cop (USA) – Los Angeles, CA Jacob Messex (USA) – Los Angeles, CA Sid Tapia – Sydney, Australia Fabian Fredrick Fuchs (Europe) – Stuttgart, Germany Lukas Goller (Europe) – Bolzano, Italy Hugo Fernandes (Europe) – Paris, France
In support of The Showcase, adidas skateboarding releases a new video featuring Pro team rider Nora Vasconcellos and past participants. Capturing The Showcase's explosive energy and community vibe, the video also echoes adidas Skateboarding's commitment to provide resources for artists to further inspire the exchange of innovation and originality.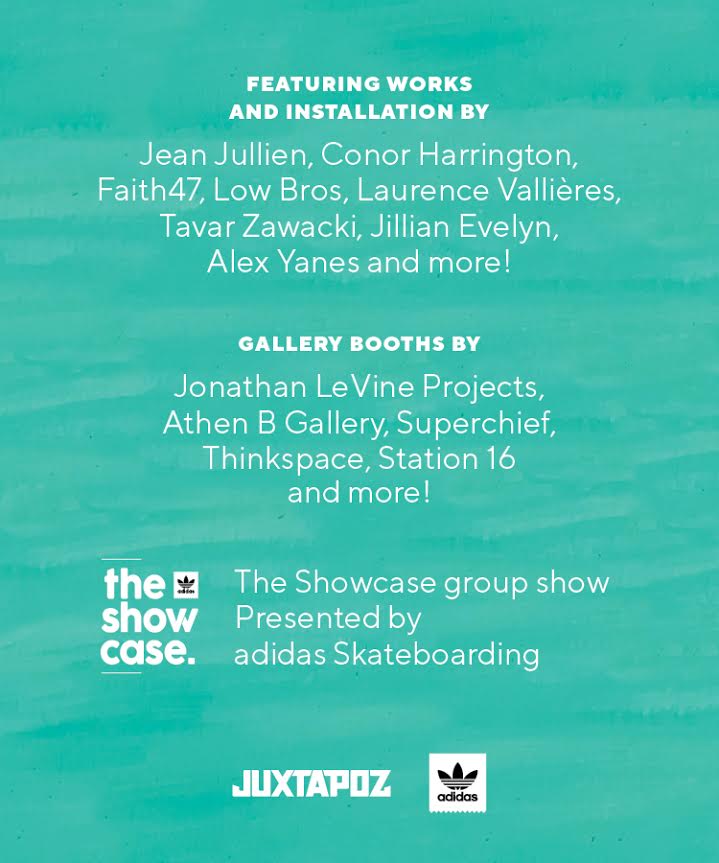 Juxtapoz Clubhouse @ Historic Walgreen's Building200 East Flagler StreetMiami, FLDecember 7-10, 201710AM–8PM (Daily) – December 7, 2017