Juxtapoz Clubhouse 2017
---
Taking place within the Juxtapoz Clubhouse located at the Historic Walgreen's Building in downtown Miami, The Showcase promises to house the best emerging international talent within the global skateboarding community alongside Juxtapoz's lineup of critically acclaimed artists. In addition, event and gallery installations from some of biggest names in public and contemporary art will be on display.
The goal of The Showcase has always been to bring the global skateboarding community together, celebrate our creativity, and help elevate the incredible talent we share as skateboarders. Working with an outlet like Juxtapoz to bring some of the best creators from the Showcase to a global stage in Miami is a huge step forward in supporting this next generation of young artists.
— Cullen Poythress, Senior Communications Manager, adidas Action Sports
Juxtapoz Clubhouse's exhibiting artists include Laurence Vallières, Jean Julian, Conor Harrington, Ron English, hand-painted signage by Serge Lowrider and many others.
The Showcase exhibiting international artists include: Ivonne Alcantara Sanchez (Latin America) – Mexico City, Mexico, Mariano Amilcar Gonzalez (Latin America) – Buenos Aires, Argentina ,Julio Ignacio Pizarro Freire (Latin America) – Santiago, Chile, Erica Maradona (Latin America) – Sao Paulo, Brazil, Trihumph (USA) – New York, NY Maximilian Mueller (USA) – New York, NY Spacegoth (USA) – Los Angeles, CA, Jason Keam (USA) – Los Angeles, CA, Homeless Cop (USA) – Los Angeles, CA, Jacob Messex (USA) – Los Angeles, CA, Sid Tapia – Sydney, Australia, Fabian F. Fuchs (Europe) – Stuttgart, Germany, Lukas Goller (Europe) – Bolzano, Italy, Hugo Fernandes (Europe) – Paris, France
— via Juxtapoz.com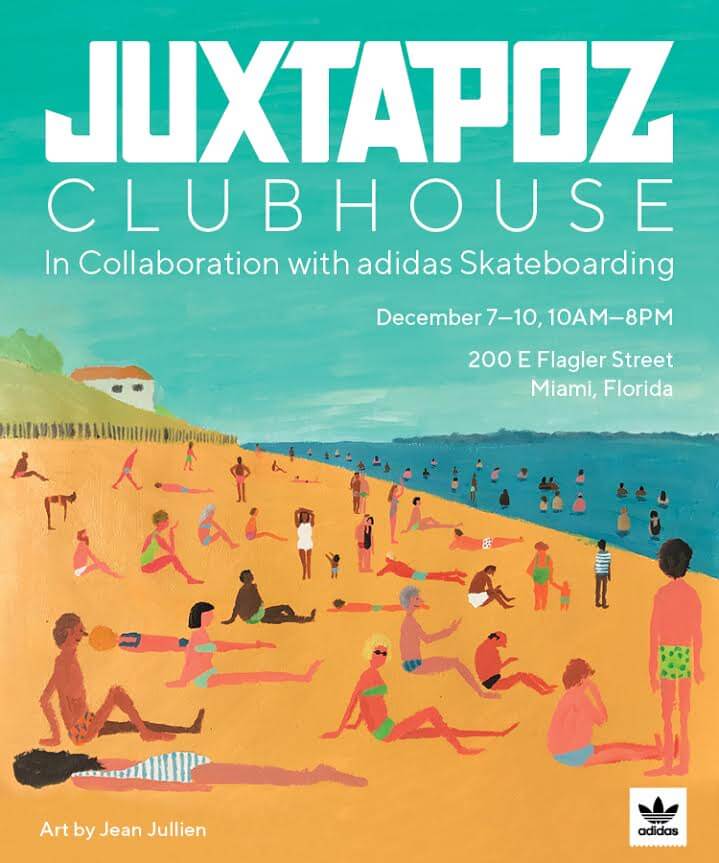 Juxtapoz Clubhouse @ Historic Walgreen's Building200 East Flagler StreetMiami, FL – December 10, 2017